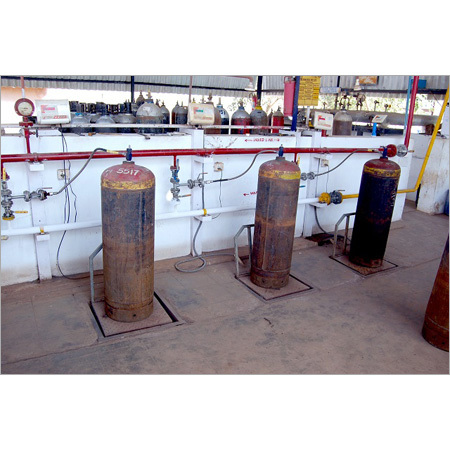 Ammonia Gas
Price And Quantity
Product Specifications
-77.73 °C

0.73 kg/m³ Kilogram per cubic meter (kg/m3)
Product Description
When a liquid is compressed and liquified under low temperature and pressure, Anhydrous Ammonia is produced. As the liquid ammonia gets suitable temperature and/or exposure to the atmosphere, it vaporizes immediately. Ammonia is a colorless gas with a strong and pungent smell. The presence of this of this gas even at a miniscule level exposure can be felt by its characteristic smell. The safety feature is the biggest property of Ammonia.
NH3 is the chemical formula of Ammonia, with CAS registry 7664-41-7 and UN No. 1005. Ammonia due to its versatility is used in several applications across industries. Anhydrous Ammonia in both liquid and gaseous states is utilized in pharmaceutical, chemical, rubber and other industries.
Ammonia decomposes at higher temperature, preferably more than 450ºC, and releases Hydrogen and Nitrogen gases. It can also decompose at lower temperatures in the presence of appropriate catalysts.

Steel containers are used for supplying liquified ammonia, mainly of capacity ranging from 40-60kg cylinders, 400kg tonners, ISO tanks and 6-15MT tankers. These high pressure withstanding packaging containers comply with essential statutory requirements of the International Maritime Organization and the Petroleum and Exp. Safety Organization.
Ammonia is not considered fire hazardous in an open and well ventilated space. But in closed and confined spaces, ammonia can be fire hazardous, especially when there are oil and other combustible materials present. The exposure of ammonia gas can result in corrosion of brass, bronze, copper, galvanized surfaces, aluminum alloys, gold and silver.
Also called ammonia water, aqueous ammonia and ammonia liquor, ammonia solution is denoted by NH3(aq). Sometime, ammonia solution is regarded as an ammonium hydroxide, the name itself implies an alkali with [NH4+][OH-] composition. In fact, it is not possible to isolate samples of NH4OH. The NH4+ and OH ions do not account for a high fraction of the total ammonia, except in extremely dilute solutions. Un No. of Ammonium Hydroxide is 2672 and CAS registry is 1336-21-6. A concentration of about 25% w/w is used in the manufacturing.

Ammonia Solution is provided in different packaging capacities, such as:
5 Lt. To 235 Lt. HMHDPE Plastic containers
10 MT to 20 MT Tankers
22 MT ISO Tankers
Aqueous Ammonia (Liquor Ammonia) Ammonia in Water is safe to handle and helps in preventing the hazards related to use the use of Ammonia Gas by reducing its vapour pressure. Also called Ammoniacal Liquor, this inorganic, liquid chemical has application in Rubber, Pharmaceuticals and other industries.
AMMONIA SOLUTION: On disturbance quickly release ammonia gas, which has a strong and pungent smell, is an irritant and corrosive to eyes, skin, respiratory tract and mucous membranes.
Nature of Hazards: Pressure will increase upon heating and can increase severe risk of bursting. The mist and vapors can have irritating effect on skin, eyes and respiratory tract. When exposed to body, the liquid can cause severe burns. The liquid spilled will evaporate and spread in the atmosphere.
Protective Devices: Make use of ammonia canister mask or self contained breathing apparatus (SCBA) as a respiratory protection device. Use goggles for protecting the eyes. For body protection, use boots, suits, hoods and PVC/ rubber gloves. Must have an eye-wash bottle containing clean water.
Emergency Action: Take the vehicle to open ground if it possible and stop the engine. Send a warning to other road users and keep people away from the area. Put on overall protective devices.
Spillage: Warn inhabitants if vapors drift towards populated area. Use sand or earth for containing leaking liquid. One can also spray water to knock down the vapour.
Fire: Spray water to keep the container cool, of exposed to fire.
First Aid: Immediately remove contaminated clothes and was affected skin with water. Wash eyes for at least 15 minutes, if Ammonia vapours get into eyes. If anyone experience symptoms due to inhalation or contact with eyes or skin, then it is recommended to immediately seek medical treatment. Those who have inhaled gas, must lie down and keep still. The patients must be kept warm. No artificial respiratory device must be applied, if the patient is breathing.
Additional Information: Handle Ammonia Drums/Jerrycans carefully. These containers must be protected from any source of heat, as ammonia with very high vapour pressure quickly rises with temperature. The containers must not be loaded above the height of truck's body and no part of containers must project outside the truck's body.
Liquefied Ammonia is provided in steel containers of different capacities, such as:
40 to 60 kg Cylinders
400 kg Tonners
6 to 15 MT Tankers
ISO Tanks
Only those packaging containers are used that can withstand higher pressures and are compliant with statutory requirements of the International Maritime Organization and the Petroleum and Explosives Safety Organization.
Anhydrous Ammonia Solution (Ammonium Hydroxide)
Description --A Clear Colorless Liquid Odor Strongly Pungent & Characteristic
Solubility -- Mixable with water in all Proportions
Identifications -- I.P.Identification test for ammonia positive
Residue On Evaporation -- 0.0068 %
Specific Gravity @ 25 c -- 0.905 gms
Chloride (AS CL) -- Less than 0.0005 %
Sulphate (AS SO4) -- Less than 0.0002 %
Iron (AS Fe) -- Less than 0.00002 %
Carbonate (AS CO3)) -- Less than 0.002 %
Assay -- Contents of Ammonia i.e NH3 = 25 % @ 27 C Contents of Water 75 %
Anhydrous Ammonia Purity -- 99.5 %

Oil (Max) -- 0.02 %
Moisture (Max) -- 0.5 %
Residue On Evaporation % By Valume -- 0.05%
Pyridine -- Nil
Napthanlene -- Nil
Phosphic Passes -- Test
Sulphur Compounds -- Passes Test